I don't know if any of you lot have the faintest interest in American politics, but I do.
The election is exactly a year today, as it happens.
As Mitt Romney manages to flip flop his way to the Republican nomination and, in all likelihood, the presidency, a rather more unorthodox contender has emerged.
Ok, so he appears to have sexually harassed and assaulted a series of female employees while head of the NRA(not that one). Maybe his campaign staff is devised of a bunch of crooks(allegedly) and shady characters who may or may not be guilty of campaign fraud. It may also be true that he proposed an electric fence to keep out illegal immigrants, prisoner swaps with Al Qaeda and has no knowledge of the phrase 'right of return' in relation to the Middle East.
All of that may or may not be true. Yet Herman Cain continues to lead the polls for the Republican nomination. The man who named his company 'The Herminator Experience'.
This man: http://www.youtube.com/watch?v=pZe75JSXhyU
Him: http://www.youtube.com/watch?v=0vPdx_uvp_I&feature=related
Really?: http://www.youtube.com/watch?v=aDXCwd65R5o
Yep, that's right.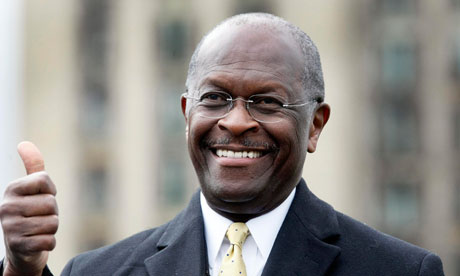 Great piece on him here for any geeks. http://www.nytimes.com/2011/11/13/magazine/on-the-ropes-with-herman-cain.html?pagewanted=1&_r=1