And today it's Edson Arantes do Nascimento.

Who?

Why it's Pelé of course, finally making his way into a Ramble Hall of Fame.

About bloody time.

Pelé was born on either October 21st or 23rd (depending on who you believe) 1940, 27 years before the summer of love, so he was a good age to enjoy it.
He grew up in the city of Três Corações, in the state of Minas Gerais, approximately 200 miles northwest of Rio de Janeiro and was named after inventor Thomas Edison. Although his parents dropped the 'i' and called him Edson. His father, João Ramos do Nascimento was a professional with Fluminense and was capped 6 times for Brazil, scoring 19 (yes, nineteen) goals. A remarkable strike rate which was no fluke; in his club career he scored 893 goals in 775 matches. Better known as Dondinho, he once scored five goals with his head in one match. Pelé always aspired to beat this record but was never able to. It remains an unofficial world record.

Dondinho
Dondinho's older brother, Francisco, was also an exceptional footballer, but tragically died at 25. The young Edson was encouraged to play football and pushed to be the best player he could be. Dondinho always felt his son had inherited his spirit and talent from an uncle he never knew, and not directly from him.
Edson's original family nickname was Dico, however he obtained his famous moniker when he started to attend school. His favourite player was a local goalkeeper name Bile, but Edson could not pronounce it correctly and the other children used the mispronunciation as his nickname and it stuck. Pelé was born.
Pelé's family were poor, and could not afford a football. Early practice was with a sock stuffed with a newspaper or a grapefruit. This didn't prevent him from developing his skills though, and at just 11 he was spotted by former Brazilian international Waldemar de Brito. During his time in youth football he lead Bauru Athletic Club Juniors to 3 consecutive state youth championships. Indoor football was becoming popular in Brazil at the time and he dominated the here as well. Pelé would often say it was during these indoor games, where the game was much faster, that he really learnt the skills which would propel him to stardom.

"The greatest goal I ever scored was a one-two with Celeste – we named him Edson Arantes do Nascimento." - Dondinho
He was just 15 in 1956 when he was sent to have a trial with Santos FC. He made an instant impression and signed professional forms in the June of that year. His debut coming in the September, aged just 16, and scored in a 7-1 win. It took just 10 months for Pelé to earn a national call up for a game against Argentina at the DWHOF-residing Maracana stadium. Pelé scored on his debut here as well, but was unable to prevent a 2-1 loss. No matter, though. Pelé had arrived on the international scene.

Pelé was the only footballer who surpassed the boundaries of logic. - Johan Cruyff

In his first full season Santos won the State Championship, finishing as top scorer with 58 goals. A record set at just 17 which still stands today.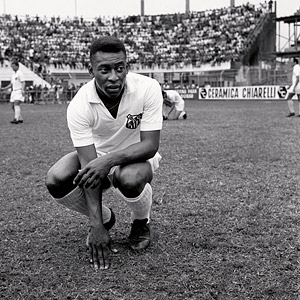 "When I saw Pelé play, it made me feel I should hang up my boots." - France legend Just Fontaine
The world then got it's first glimpse of his talents at the 1958 World Cup in Sweden. Suffering from a knee injury upon arrival, his team mates insisted that he still play. At the time he was the youngest ever player to play at a world cup, and in the opening game against the USSR he provided an assist. His first goal came against Wales in the Quarterfinals as he kicked into gear. A hat-trick followed against France in the Semis and in the final added a brace to his tally as Brazil won the tournament in a 5-2 victory over the hosts. His first is still remembered as one of the World Cup's best ever goals. At full time he passed out on the pitch and when he came round he was in tears as his celebrated with his teammates.

"After the fifth goal, even I wanted to cheer for him." - Sigge Parling of Sweden
The titles flowed in the seasons to follow with 7 titles with Santos and 8 personal goal scoring awards as 'The Black Pearl' as he was known hit 475 goals all before the next World Cup came round.
So upon arriving at the 1962 World Cup in Chile Pelé was world football's biggest star. Expectation on him was high, and in Brazil's opening game he did not disappoint. A goal and an assist against Mexico however, would be his only contribution. An injury in their 2nd game vs Czechoslovakia ruled him out of the tournament and fellow Brazilian, DWHOF and Robbie Keane Cup legend, Garrincha took centre stage as Brazil retained their crown.