Today, we have the men who created one of the greatest stories in football.
THE NORTH KOREA 1966 WORLD CUP TEAM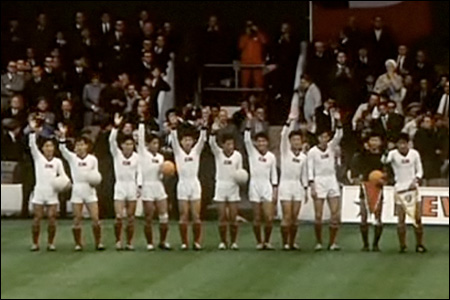 One year before the summer of love, the 1966 World Cup is English Football's finest hour. Yet the real story of that World Cup came not at Wembley, but at Aryesome Park in Middlesbrough. North Korea put political tension and cultural divisions aside to simply play the greatest sport in the world, and my god did they make themselves known.
I want to focus on the football in this profile, but it's important to remind ourselves about the position of North Korea in the world in 1966. A staunch communist nation at the height of the cold war, it was a nation barely recovering from the horrendous Korean War in the 1950's which left 215,000 of their countrymen dead. Needless to say, there weren't really any Korean-Western relations to speak of whatsoever. It's leader was "The Great Leader", Kim Il-Sung, who remains as Head of State despite his death in 1994.
That North Korea even participated in the tournament is quite amazing in itself. FIFA had allowed only one Asian and African representatives, leading to 20 of 22 eligible teams pulling out, and so beating Australia in a play-off was enough for qualification. However, at the height of the Cold War, Britain was seriously considering not letting representatives from a nation they did not official recognise into the country. Scars from the Korean War still ran deep (over 1,000 British soldiers had died), and Britain did not want to see the flag of a communist enemy fly in their tournament. Yet calmer heads, and FIFA, prevailed and the Koreans were allowed to participate. Many probably thought it wouldn't matter too much, they'd be quickly humbled in all three of their group games and sent packing. "Unless the Koreans turn out to be jugglers, with some unexpected ploy like running with the ball cushioned in the crook of their necks, it looks as though Italy and the Soviets should have the run of the place," a Times correspondent wrote. They were not 1000/1 outsiders to win the trophy, seeing as no Asian or African side had reached the quarter finals before, and the team were semi-professionals with an average height of 5ft 5 inches, this seemed reasonable. Korean defender Ring Jun-Sun recalls meeting their Great Leader Kim Il-Sung shortly before the departing for England. "Before we left our homeland, the Great Leader invited us to see him. That day he embraced us lovingly and said: 'Europeans and South American nations dominate international football. As the representatives of the Africa and Asian region, as coloured people, I urge you to win one or two matches.'"
They arrived in Middlesbrough, their base for the tournament as a complete curiosity. Nothing was known about these players. They'd arrive strangers, but leave with the fondest of farewells. Their first match was at Boro's Aryesome Park, against former European Championship winners The Soviet Union, who boasted a great team, and great tracksuits. So foreign to the English football fan were they that commentators wouldn't dare pronounce their names, "Number three passes to number six, to number five" being typical of match commentary. Despite losing 3-0, they impressed their crowd with their positive, attractive football. They moved the ball around well, using the raw speed of players like the number seven, Pak Doo-Ik, to great effect. Given their height, long ball, physical play wasn't really an option, but their desire to attack was evident. The local Teessiders began to warm to another side in Red. Their nickname was befitting of their style, they were the 'Chollima' team, 'Chollima' being a swift, elegant "thousand-mile" winged horse from East Asian folklore.
Three days later, North Korea faced Chile, again at Aryesome Park. The South Americans were dominant at the beginning and Ruben Marcos thundered home a penalty in the 26th minute, but the plucky Asian outfit stuck to their quick, attacking style and eventually found their way back into the game, Pak Seung-Zin struck a sweet volley from the edge of the area to give his country a point nobody predicted they'd get. The Times wrote "Rarely have supporters taken a team to their hearts as the football followers of Middlesbrough have taken these whimsical orientals."
So, that was surely North Korea's moment, a 1-1 draw with Chile. Once more at Aryesome Park, their final group game was against the much-revered Italy side. Italian football hadn't really recovered from the Supergia air disaster in 1949, in which 31 players had died, but they were nonetheless expected to see off this upstart team from half the world away. However, they shot themselves in the foot, the Captain, Bulgarelli, went off with a knee injury with an hour to go after a needless sliding tackle on Pak Seung-Zin. Against ten men, the fleet-footed Koreans had an advantage, only a win would do for qualification, and on 41 minutes, the unthinkable happened. A powerful header forward bounced up for Pak Doo-Ik on the edge of the area, who let rip, sending the ball into the bottom-left hand corner of the net. Both sides missed chances, but the eleven men held out and produced the biggest shock in World Cup history. North Korea 1 Italy 0. That's North Korea. Beating Italy. North. Korea. The Daily Express' Arnold Howe wrote: "Pak Doo-Ik last night detonated one of the great explosions in soccer. He scored the goal that hurled the Italians out of the World Cup. That sent the non-entities of North Korea into the quarter-finals. That sent the Land of the Morning Calm into a Middlesbrough night of frenzy."