And today it's international friendly tournament Le Tournoi.

Kicking off on 3rd June 1997, 30 years after the summer of love, Tournoi de France (literally, Richard, "the Tournament of France") was staged in order for France to test their infrastructure prior to the World Cup the following summer.
The hosts were joined by 4 time World Cup winners, and holders, Brazil, 3 time winners Italy and 1966 winners England.
4 stadia were used:
The Stade de Gerland in Lyon:
The Stade de Beaujoire in Nantes:

The Stade de Mosson in Montpellier:

The Parc des Prince in Paris:
It was a simple round robin tournament, all 4 sides playing each other once with the group winners crowned champions. All four nations brought their strongest squads as it was not just the French stadia that was being tested 12 months prior to the 1998 World Cup Finals.
Match 1
3 June 1997, Lyon.
France 1 - 1 Brazil
The opening game saw the hosts play Brazil in Lyon and it took just 21 minutes for the tournaments most iconic moment to happen.
Left back Roberto Carlos was known for his free kicks, but when Romario was brought down halfway between the center circle and the edge of the box no one could have predicted what would happen next. Striking directly for goal, the DWHOF inductee's audacious attempt appeared to be heading wide and the ball boy behind the goal even ducked but the ball then curved sharply and bent just inside Fabien Barthez's goal leaving the both the keeper, and the watching world's mouths, routed to the floor. The moment would become more iconic than the tournament itself. Most people when asked about this goal would probably say it happened during the following summer's World Cup, such is it's infamousy.
France equalised in the 55th minute though substitute Marc Keller, his only goal in 6 caps, as the opening game ended in a draw.

SHIT! Did you see that? He must a foot like a traction engine
Match 2
4 June 1997, Nantes
England 2 - 0 Italy
It was a new 3-5-2 formation for England as Graeme Le Saux was tried out as a left wingback and Phil Neville the same on the right with David Beckham playing more centrally alongside 22 year old Paul Scholes who made his full international debut. DWHOF goal pervert's Ian Wright and Teddy Sheringham were up front as captain Alan Shearer started from the bench. It was a tactic that paid off and Scholes played a stunning long ball for Wright's opener and the two then reversed roles as Wright crossed for Scholes to score the first of his 14 international goals.
It was an impressive display from England as hope grew around manager, and DWHOF resident, Glenn Hoddle's new approach.
"The way we played in the first half, with our one-touch football, has made people sit up." said David Beckham. Manager Hoddle was also impressed. "It takes good players to do that. We've worked at this system in training over the last 12 months but until now we haven't been able to put it into a match situation. This is what this tournament's all about, looking at new players, new shapes and systems."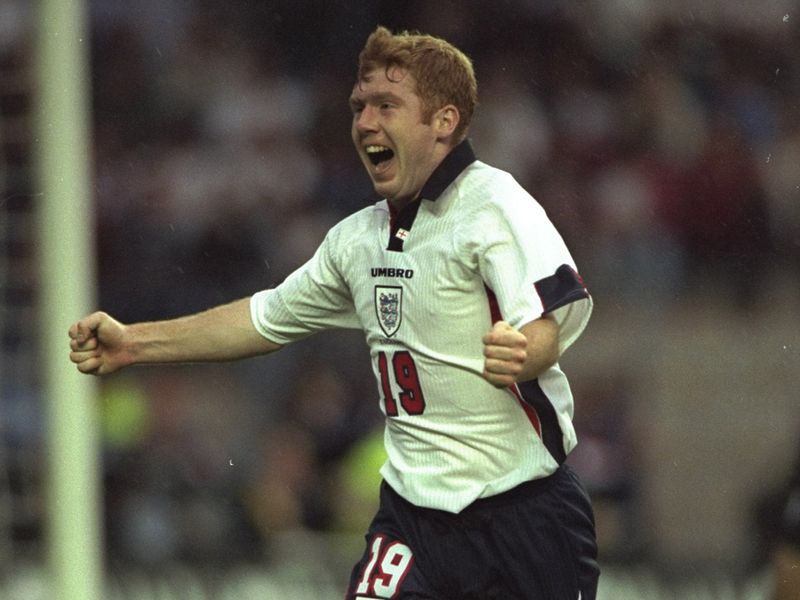 TWAT! That was Liquid football.

Match 3
7 June 1997, Montpellier
France 0 - 1 England
A quick turnaround for England as they faced the hosts just 3 days later in Montpellier. Hoddle made 6 changes including DWHOFee Gascoigne for Scholes and Shearer for Sheringham as he continued to experiment with his side.
Shearer made an instant impact back in the starting XI when he pounced as Barthez spilled a cross and slotted home just before half time to score the game's only goal. It was was a less dominant performance than against Italy, but two wins and two clean sheets put England on top of the group as excitement around the team grew.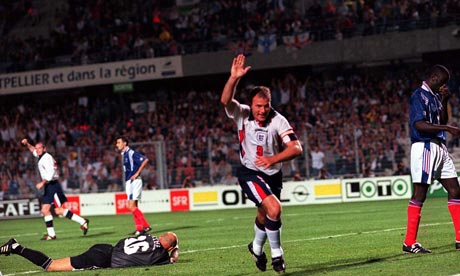 Eat my goal, the goalie has got football pie all over his shirt