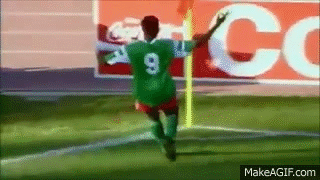 Simple premise, before every Premier League Gamesweek (GW), you have to pick ONE player who you think will score the quickest goal in that GW.
The rules :
- The quickest goal is determined as the earliest goal scored in the earliest minute of all the matches across the games week. The date of the match is irrelevant.
- You get ONE pick per GW
- You can pick any player you want, it doesn't matter if someone else has the same pick.
- Your choice MUST be made from the games listed in the Gamesweek (GW) in the Original Post (OP). If the game isn't listed, tough.
- Scoring goes as follows :
100 points = correctly guess the goalscorer
25 points = correctly guess the team
10 points = correctly guess the match
- If the first goal is an Own Goal, the same scoring as above will apply.
- Your submission for 1st goalscorer MUST BE IN BEFORE KICK-OFF ON THE FIRST GAME OF THE GW
- All points will be accumulative across the whole season.

- - - - - - - - - - - - - - - - - - - - - - - - - - - - - - - - - - - - - - - - - - - - - - - - - - - - - - - - - - - - - - - - - - - - - - - - - - - - - - -

Current Leaderboard :
1. Hunter : 250 pts
2. MattFool : 125pts
= Ancien Homme Toon : 125pts
= gp543 : 125pts
5. Shandy : 100 pts
6. Hank Scorpio : 50pts
= Sid : 50pts
8. Noelix : 45pts
= RKMF : 45pts
10. Vincelot : 35pts
= SatNav : 35pts
= Nickperson : 35pts
13. GFM : 25pts
= Juan Flo : 25pts
Previous Gamesweeks
Gamesweek 1 : Chris Wood - BURNLEY vs. Crystal Palace
Gamesweek 2 : Antonio Valencia - MAN UTD vs. Everton
Gamesweek 3 : Alvaro Morata - Stoke vs. CHELSEA
Gamesweek 4 : Juan Mata - MAN UTD vs. Crystal Palace
Gamesweek 5 : Cesar Azpilicueta (OG) - CRYSTAL PALACE vs. Chelsea
Gamesweek 6 : Harry Kane - TOTTENHAM vs. Liverpool
Gamesweek 7 : Steven Davis - Brighton vs. SOUTHAMPTON
Gamesweek 8 : Kevin De Bruyne - MAN CITY vs. Arsenal
Gamesweek 9 : James McArthur - CRYSTAL PALACE vs. Everton
Gamesweek 10 : Salomon Rondon - Tottenham vs. WEST BROM
Gamesweek 11 : Alexandre Lacazette - ARSENAL vs. Huddersfield
Gamesweek 12 : Wilfried Bony - Stoke City vs. SWANSEA
Gamesweek 13 : Charlie Austin - SOUTHAMPTON vs. Arsenal
Gamesweek 14 : Daryl Janmaat - Crystal Palace vs. WATFORD
Gamesweek 15 : Elias Kachunga - Watford vs. HUDDERSFIELD
Gamesweek 16 : Marco Arnautovic - WEST HAM vs. Newcastle
Gamesweek 17 : Ashley Barnes - Man Utd vs. BURNLEY